Nandini Ghosh
Assistant Professor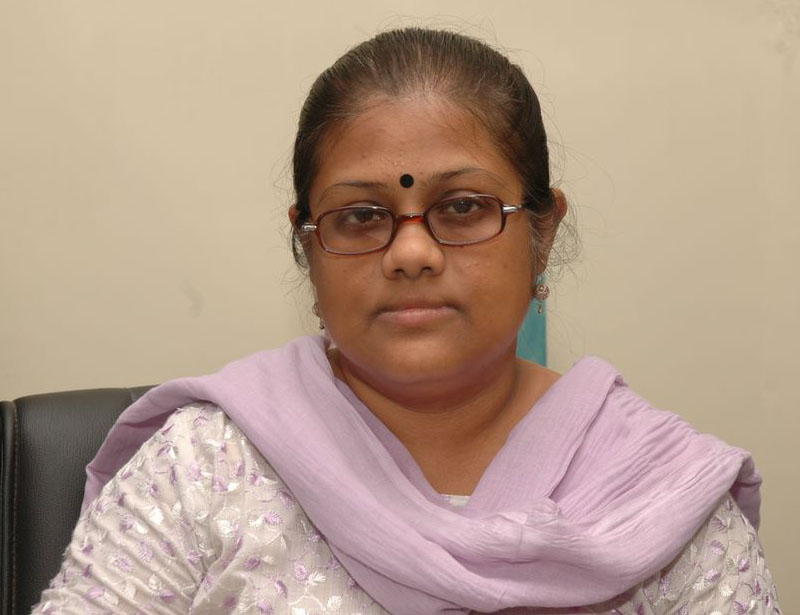 Education
PhD in Social Sciences, Tata Institute of Social Sciences, 2008
Office
Room No. 502B
Office telephone
+91 33 2321 3120/21 (Extension No. 61)
Email address:
Areas of interest:
Gender studies, Disability studies, Qualitative Research Methodology
SELECT PUBLICATIONS
Articles
Using Qualitative methods in Disability Research, in edited Volume titled Qualitative Research in Public Health in India, to be published by Indian Institute of Public Health, Gandhinagar (Article Accepted).
Feminist Ethnography: Exploring Lives of Disabled Women in volume on Exploring Disability in Social Science Research, to be published by Centre for Study of Social Systems, School of Social Sciences, Jawaharlal Nehru University, New Delhi (Article Accepted).
Embodied Experiences: Being Female and Disabled, Economic and Political Weekly, Review of Women's Studies, Volume 45, Number 17, April 24 – 30, 2010.
Disability Policy and Action in India: A critical review, International Journal of Disability Studies, Vol. 2 Number 2, December 2006.
Chapters in Books/Reports
Bhalo Meye: Cultural Construction of Gender and Disability in Bengal, in edited Volume titled Emerging Paradigm of Disability Studies: Perspectives and Challenges from India, to be published by Centre for Women's Development Studies, New Delhi and Routledge India, January 2012.
Women with Disabilities, in the Country Report for the United Nations' Convention for Rights of Persons with Disabilities, on behalf of Government of India and NALSAR, Hyderabad.
Ongoing
A Study of the Disability Movement in India: Trajectory, Tensions, Future
Principal Investigator: Nandini Ghosh; Co-Principal Investigator: ; Funding Agency: ; Duration:
TEACHINGS
Engaged in teaching Qualitative Research methods and Sociology as part of the M Phil. in Development Studies curriculum and guided students in M Phil dissertation in IDSK.
SEMINAR/ CONFERENCE/ LECTURE
The Politics of Disability: Some Reflections at the National Annual Conference on Disability, organized by the Equal Opportunities Cell, University of Delhi (March 3-5, 2011).
Gender and Disability in India at the Community Based Rehabilitation India Network Annual Conference, in New Delhi (December 10-11, 2010).
Disabled Adolescents: issues and concerns at UGC National Seminar on Perceived Psycho-Socio-Cultural Problems and Adjustments among Adolescents: A Rural and urban Contexts, at Department of Psychology, Basanti Devi College, (December 8, 2010).
Disability and Census: The need to be counted at a seminar on Getting Women and Girls with Disabilities counted in Census 2011, organized by Association for Women with Disabilities, at Seva Kendra, in Kolkata (May 21, 2010).
Embodying Gender: Disabled Women in Bengal at the Ninth Women in Asia Conference, at University of Queensland, in Australia (September-October, 2008).
Bhalo Meye: Cultural construction of gender and disability in Bengal at Conference on Disability, Gender and Society: Contemporary Perspectives and Challenges, organized by Centre for Women's Development Studies, New Delhi (August, 2008).
The Status of Women with Disabilities in 10 districts of West Bengal, in a study conducted by Sanchar, a leading NGO in West Bengal working on issues related to disability, (2006-07).
Sexuality and Women with Disabilities (jointly with Jeeja Ghosh) at the National Dialogue: Women, Health and Development, in Mumbai, (November 23-25, 2006).
Developing positive attitudes towards People with Disabilities at a seminar organized by the Dept. of Science and Technology, Govt. of West Bengal (June, 2000).