Simantini Mukhopadhyay
Assistant Professor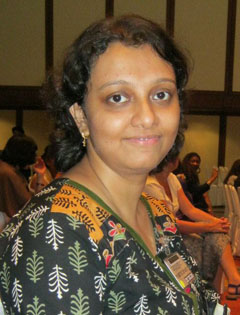 Education
Ph.D. in Economics,University of Calcutta
Office
Room No. 505
Office telephone
+91 33 2321 3120/21 (Extension No. 55)
Email address:
Areas of interest:
Health Economics, Child Health and Nutrition, Measurement of Poverty and Inequality, Microeconometrics.
SELECT PUBLICATIONS
Journals
'Decomposing Nutritional Inequality by Caste and Class: A Quantitative Approach to Reckon Intersectionality', (jointly with Achin Chakraborty), Economics Bulletin, Volume 37, Issue 2, pages 1339-1350, 2017
'Sex differences in the risk profile of hypertension: a cross-sectional study', (Jointly with SaswataGhosh and Anamitra Barik), BMJ Open, 6:e010085. doi:10.1136/bmjopen-2015-010085, 2016
'On the apparent non‐significance of sex in child nutrition in India', Journal of Biosocial Science, Cambridge Journals, 48 (2) : 267‐282, 2016
'Dynamics of child undernutrition in India: An analysis beyond the Headcount Ratio', Economics Bulletin, 36(1), 2016.
The Intersection of Gender, Caste and Class Inequalities in Child Nutrition in India, Asian Population Studies, Routledge, 2015
Do Public Services Reach the Worst Affected Children in Rural India? An Investigation Applying the Quantile Regression Method, Child Indicators Research, Springer, 6(3): 527-546, 2013.
'Agriculture-Nutrition Pathways: Recognizing the Obstacles', Economic and Political Weekly, XLVII(16), 79-80, 2012
'Using the Mean of Squared Deprivation Gaps to Measure Undernutrition and Related Socioeconomic Inequalities', Journal of Human Development and Capabilities,Routledge, 12(4):535-556, 2011
Chapters in Books
'Caste-Gender Intersectionalities and the Curious Case of Child Nutrition: A Methodological Exposition', (jointly with Achin Chakraborty), in Supurna Banerjee and Nandini Ghosh (eds) Caste and Gender in Contemporary India : Power, Privilège and Politics (Routledge), forthcoming.
SEMINAR/ CONFERENCE/ LECTURE