Simantini Mukhopadhyay
Assistant Professor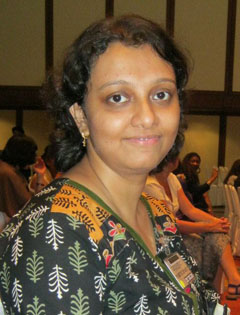 Education
Ph.D. in Economics,University of Calcutta
Office
Room No. 505
Office telephone
+91 33 2321 3120/21 (Extension No. 55)
Email address:
Areas of interest:
Health Economics, Child Health and Nutrition, Measurement of Poverty and Inequality, Microeconometrics.
SELECT PUBLICATIONS
Journals
The Intersection of Gender, Caste and Class Inequalities in Child Nutrition in India, Asian Population Studies, Routledge, 2015; DOI:10.1080/17441730.2015.995150
Do Public Services Reach the Worst Affected Children in Rural India? An Investigation Applying the Quantile Regression Method, Child Indicators Research, Springer, 6(3): 527-546, 2013.
SEMINAR/ CONFERENCE/ LECTURE