Amiya Kumar Bagchi
Emeritus Professor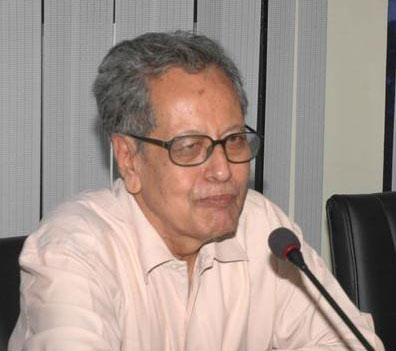 Education
PhD in Economics, Cambridge University, 1963
Office
Room No. 102
Office telephone
Alipore: +91 33 2448 2225 Salt Lake: +91 33 2321 3120/21 (Extension No. 20, 30)
Email address:
Areas of interest:
Finance, human development issues and other aspects of development, the prospects of democracy in a globalizing world.
SELECT PUBLICATIONS
Books Published
Private Investment in India 1900-1939 (New York: Cambridge University Press, 1972).
The Political Economy of Underdevelopment (New York: Cambridge University Press, 1982).
The Evolution of the State Bank of India, Vol.1 — The Roots 1806-1876 (New Delhi: Penguin Books, 2006).
Public Intervention and Industrial Restructuring in China, India and the Republic of Korea (New Delhi: International Labour Organization, 1987).
Capital and Labour Redefined: India and the Third World (New Delhi: Tulika Books; London: Anthem Press, 2002).
The Development State in History and in the Twentieth Century (New Delhi: Regency Publications, 2004).
Perilous Passage: Mankind and the Global Ascendancy of Capital (USA: Rowman& Littlefield, 2005; New Delhi: Oxford University Press, 2006).
Colonialism and Indian Economy (New Delhi: Oxford University Press, 2010).
Books Edited
Change and Choice in Indian Industry, with Nirmala Banerjee as co-editor (Kolkata: K.P. Bagchi,1981).
New Technology and the Worker's Response: Microelectronics, Labour and Society, with RanabirSamaddar as co-editor (New Delhi: Sage Publications India Pvt. Ltd.,1995).
Democracy and Development: Proceedings of the IEA Conference Held in Barcelona, Spain (New York: St. Martin's Press in association with the International Economic Association, 1995).
Economy and Organization: Indian Institutions under the Neoliberal Regime (New Delhi: Sage Publications India Pvt. Ltd.,1999).
Webs of History: Information, Communication and Technology from Early to Post-colonial India, with Dipankar Sinha and Barnita Bagchi as co-editors (New Delhi: Manohar Publishers,2005).
Maladies, Preventives and Curatives, with Krishna Soman as co-editor (New Delhi: Tulika Books, 2005).
Capture and Exclude: Developing Economies and the Poor in Global Finance, with Gary Dymski as co-editor (New Delhi: Tulika Books, 2007).
Transformation and Development: The Political Economy of Transition in India and China, with Anthony P. D Costa as co-editor (New Delhi: OUP, 2012).
PROJECTS
Ongoing
Documents Economic History of British Rule in India, Northern and Western India in the Late Nineteenth Century: Quality of Life
General Editor: Amiya Kumar Bagchi; Funding Agency: Indian Council of Historical Research, New Delhi;
Completed
Documents on the Economic History of British Rule in India 1858-1947
General Editor: Amiya Kumar Bagchi; Funding Agency: Indian Council of Historical Research, New Delhi;
West Bengal Development Report
Principal Investigators: ; Co-investigators: ; Funding Agency: Development and Planning Department, Government of West Bengal and the Planning Commission, Government of India;
TEACHINGS
Contribution of Classical Economics as Pioneers of Development
(Paper I, MPhil Programme in Development Studies)
SEMINAR/ CONFERENCE/ LECTURE
Theorizing in a hall of prisms: Italy and the origins of contextual political economy at IDSK (September 5, 2012).
The origins of contextual political economy and the early Italian contribution at the Cambridge seminar on History of economic analysis at Clare Hall, Cambridge (June 25, 2012).
India today: Democracy, oligarchy or popular power? at Department of Political Science, York University (September 12, 2011).
Global Social Reproduction and the Neoliberal Order at a panel discussion on Social reproduction in the workshop on Economic crisis and the reorganization of the global economy: Trans/regional responses, at Simon Fraser University, Vancouver, Canada (September 10, 2011).
Colonialism and Underdevelopment: The Great Divergence Between Europe and Afrasia, organized by Adult Education Radical Reading Group (OISE ǀ UT ), the Centre for South Asian Studies, University of Toronto and Historical Materialism Group, Toronto Asian Institute (September 7, 2011).
The current state of capitalism: A threat to democracy at the conference on Future of capitalism organized by Cambridge Journal of Economics in honour of Professor G.C. Harcourt (June 25-26, 2011).
Presented a paper at the national seminar on Capitalist crisis and after effects – an analysis organized by the EMS Chair for Marxian Studies and Research, Calicut University (February 23, 2011).
Rabindranath Tagore and Democratic Theory at the Third Rabindranath Tagore Memorial Lecture organized by the National Council of Educational Research and Training at the Regional Institute of Education in Bhubaneswar (January 25, 2011).
Researching Industrial Growth in Colonial India at the conference on Development and Underdevelopment organized by the Department of History, Visva Bharati University in Santiniketan (January 15, 2011).
The Relevance of Development Studies Today at the Tata Institute of Social Sciences in Mumbai (December 15, 2010).
Modes of Extraction and Use of Surplus in Indian Development at the conference to celebrate the 50th year of publication of Sraffa's on Production of Commodities by Means of Commodities in Rome (December 2-4, 2010).
The Decline and Attenuated Rise of Manufacturers in India as a panellist in the session Modernisation of China, India and Japan at the 21st International Congress of Historical Sciences in Amsterdam (August 22-28, 2010).
The Problem of Dalit Liberation Seen through the Lenses of Adam Smith at a panel discussion on History & Historiography of Dalits jointly organized by Rabindranath Tagore Centre for Human Development Studies and Indian History Congress at the University of Delhi (May 16, 2010).
New Pathways to Oligarchy (Towards a Theory of Oligarchic Democracy) at the Muttukadu conference organized by IDEAs in Chennai (January 27, 2010).
Attended the Pathways to Reconciliation Summit hosted by HRH Prince Hassan of Jordan and organized by Melbourne's RMIT and Monash University (December 14-15, 2009).
Participated as a panellist for two sessions The Global Financial Crisis from Bretton Woods to the Current Crisis and Search for Equitable and Sustainable Solutions (May 25, 2009) South-South Relations: Prospects for a New Bandung (May 28, 2009) at the conference on Dynamics of Global Crisis, Anti systemic Movements and the New Models of Hegemony organized by Museo Nacional Centro de Arte Reina Sofia, Madrid and Universidad Nomada, in honour of Giovanni Arrighi (May 25-28, 2009).
Participated in a panel discussion on Sustaining Excellence in Technical Education organised by Bengal Engineering and Science University, Shibpur (February 16, 2009).
State-led Capitalism and Neo-Liberalism in a Semi-Feudal Society: India 1947-2009, presidential address at the Bengal Economic Association 29th Annual Conference, University of North Bengal (February 7, 2009).
Keynote address on What to Teach in Financial Economics at a seminar organized by the Department of Economics, University of Madras (January 30, 2009).
Towards Democratization of Education in India at an international seminar on Democracy and Social Education organized by the Ministry of Education, Government of Kerala and Kerala University (December 4-5, 2008).
Gave a keynote address at a seminar on NehruvianParadigm organized by the Jawaharlal Nehru Centre of the University of Jamia Millia Islamia in New Delhi (November 12, 2008).
Pushing India into the Tunnel of Irreversible Neoliberalism at the 49th Annual Conference of Societá Italiana Degli Economisti organized by the Italian Economic Association in Italy (October 24, 2008).
Uncovering the Demographic History of Colonial India at the Annual Ravinder Kumar Memorial Lecture organized by the University of Jamia Millia Islamia in New Delhi (March 29, 2008).
Contesting Models of East Asian Development and Financial Crisis: A Case of South Korea at Indira Gandhi Institute of Development Research in Mumbai (March 24, 2008).
Decentralized Government and Human Development at the second conference of the Manipur Economic Association in Manipur (March 8, 2008).
Where are The Questions Coming From in Financial Economics and What Should be The Questions at the international conference on 'Globalisation, FDI and Development organized by the Department of Economics, Kalyani University (January 30, 2008).
The Rights of Authors under the Copyright Law and the Cases of Breach of Copyright Law at the seminar on 'Translating Bharat organized by SIYAHI in Jaipur, a literary organization of Jaipur (January 21, 2008).
Finance and Development at the OFSE Conference and Akamatsu's Flying Geese: Some Sparrows and Hawks are in The Air at the EADI Conference in Vienna, Austria (September 18 and 19, 2007).
Migration, Morality and Finance at the conference on International Migration, Multi-Local Livelihoods and Human Security: Perspectives from Europe, Asia and Africa organised by the Institute of Social Studies, The Netherlands (August 30-31, 2007).
Delivered the Dieter Conrad Lecture 2007 organized by the South Asia Institute of Heidelberg University in Germany (June 28, 2007).
Transitions in Human Well Being at the Kalinga lecture organized by Nabakrushna Choudhury Centre for Development Studies in Bhubaneswar (May 8, 2007).
Colonialization of the Indian Economy at the conference on Independent India: State, Society and Economy organized by Social Scientist (February 22, 2007).
Globalization and Education (also chaired a session on Value, Culture and Tradition) at the Fifth International Conference of the Academy of International Business (AIB) – India on India in the Emerging Global Order organized by the Xavier Institute of Management in Bhubaneswar (January 29-31, 2007).
Economics and Human Development at the International Seminar on Science, Culture and Social Change organized by the University of Calcutta in Kolkata to commemorate its Post-centenary Golden Jubilee (January 20, 2007).
China India Russia: Moving Out of Backwardness or 'Cunning Passages of History' at the sixth China India Russia Academic Trilateral Conference organized by The Institute of Chinese Studies, Centre for the Study of Developing Societies, New Delhi in association with China Institute of International Studies and Institute for Far Eastern Studies, Russian Academy of Sciences, New Delhi (November 2, 2006).