Supurna Banerjee
Assistant Professor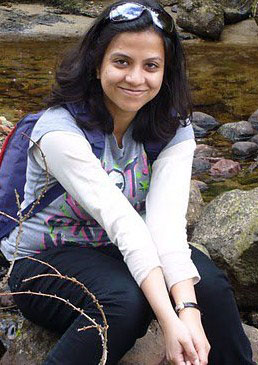 Education
PhD in Sociology, University of Edinburgh, 2014.
Office
Room No. 411
Office telephone
+91 33 2321 3120/21 (Extension No. 57)
Email address:
Areas of interest:
Gender, women, labour, migration, social space and activism.
SELECT PUBLICATIONS
Book
Limits of Bargaining: Capital, Labour and the State in Contemporary India, (jointly with Achin Chakraborty, Subhanil Chowdhury and Zaad Mahmood), Cambridge University Press, 2019.
Book Edited
Caste and Gender in Contemporary India: Power, Privilege and Politics, (jointly with Nandini Ghosh), New Delhi and South Asia: Routledge, 2019.
Book Chapters and Journal Articles
'Nationalism of Exclusion: Goumata and her Unholy Children' in Supurna Banerjee and Nandini Ghosh ed.Caste and Gender in Contemporary India: Power, Privilege and Politics, Routledge India (forthcoming)
Activism and Agency in India: Nurturing Resistance in the Tea Plantations, Routledge Edinburgh South Asia series, May 2017.
Judicial Intervention and Industrial Relations: Exploring Industrial dispute cases in West Bengal, India, Industrial Law Journal 46(1), March 2017.
'We are Still Junglis to them: Institutionalising Marginalities among the Adivasis in Dooars' in edited collection onInstitutionalising Marginal Actors in South Asia: Processes, Policies, Practices and Pitfalls edited by Hugo Gorringe, Roger Jeffery and Suryakant Waghmore, Sage Publications
Reports and Reviews
Girls with Disabilities in India: Living Contradictions of Care and Negation (Co-authored with Dr. Nandini Ghosh), Social Development Report, Oxford University Press: New Delhi, December 2016.
Book Review of Fieldwork in South Asia: Memories, Moments and Experiences Oral History 43(2), September 2015.
Occasional Paper
Intersectionality and Spaces of Belonging : Understanding the Tea Plantation Workers in Dooars, Occasional Paper No. 46, IDSK, March 2015.
PROJECTS
Ongoing
Inequality, Injustice and Exploitation: The different blends in Assam Tea Co-investigator, Funding Agency: Morrell Trust Fund, York University, UK, Duration: Started in 2017.
Re‐Conceptualizing Domestic Violence: Shifting Discourse within the Women's Movement in India Co-investigator, Funding Agency: ICSSR, Duration 2016-2018.
Status of Girls with Disabilities in India Co-investigator, Funding Agency:Council for Social Development, Duration: Started in 2016.
SEMINAR/ CONFERENCE/ LECTURE
While it is Glamorous on the Outside, It is Actually Hard Work: Narratives of Migrant Workers in Beauty Industry in India in 3rd World Conference on 'Women's Studies Building Resilience: Dialogue, Collaboration and Partnerships across Our Differences' in Colombo, Sri Lanka, May 2017.
'Our fingers are softer they do not damage the bushes': Understanding Gendered Labour through Practices and Challenges in national conference on 'Sustenance and Development in the Tea Gardens of Northeast and North Bengal' organised by Jadavpur University, March 2017.
Co-Convenor for sponsored National Seminar (along with Gorky Chakraborty) on On Borders and On Borderlands: Negotiating the 'Margins' under Globalization at IDSK, February 2017.
Co-convenor for Indian Council for Social Science Research sponsored National Conference on Examining Intersections: Caste/Gender Narratives in India February 2016.
'Some Work are Meant for the Men and some for Women:' Changing Faces of Gendered Labour through Narratives of Women from the Plantations of Dooars in 'Redefining Labour Roles in a Globalizing India', Institute of Economic Growth, Delhi, January 2016.
'Everything is different there': mapping changing perspectives of gendered labour among the migrant women of the tea plantations of Dooars in Labour (Un)Divided: Categories and Collectivities organised by School of Women Studies, Jadavpur University, November 2015.
Labour, Capital and (Dis)trust: Case Studies from West Bengal in Economic Sociology conference on Trust in Transactions, Institute of Development Studies Kolkata, November 2015.
Invited for Summer Academy workshop Work in Post-slavery Societies; Gender and Generations organised by IGK Work and Human Life Cycle in Global History, Humboldt University and University Cheikh Anta Diop Dakar, Senegal in Dakar, Senegal, February 2015.